Why Volunteer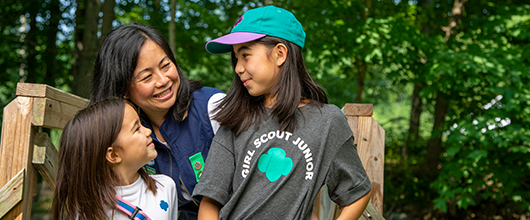 Why Volunteer
Help Girl Scouts dream big.

Change-makers. Trailblazers. Explorers. We're talking about Girl Scouts, of course, but we're also talking about the people who become Girl Scout volunteers.
Just like the Girl Scouts they guide, volunteers lead with their hearts and bring a playful sense of curiosity to everything they do. Whatever their unique skills or interests, volunteers help Girl Scouts unlock their limitless potential and make a lasting difference in the world.
See for yourself how empowering it is to be a role model. Look for Girl Scout volunteer opportunities near you—whether you're looking for short-term opportunities or to start a troop of your own, connect with your local Girl Scout council and start making an impact.
Want to Start a Troop?
You'll be their cheerleader, guide, and mentor, helping them develop skills and confidence that will last a lifetime. Imagine the smiles, the excitement, the memories made—those are the moments you'll share at Girl Scouts. We'll provide training and support all along the way, so you're not on your own in forming and leading your troop.
To start a new troop, you'll need to: 
1. Become a member of Girl Scouts. Membership costs $25 per year. 
2. Register as a volunteer and complete a background check for an additional $4 dollar cost.
3. Complete the required training, which includes an online orientation. When you register and choose the option to be a leader, you will receive the training information from GSSA.  Additional training is available along the way. If you haven't received the training information, please email our customer care team.
4. Recruit more leaders. You'll want at least two people on your leadership team and the more the merrier!
5. Recruit girls! Contact us if you want us to host a Parent Information Night in your school or find girls looking for a troop.