Even as we all practice social distancing, Girl Scouts is still a place where girls can feel supported and share honest conversations about what they're feeling. Knowing that there are tens of thousands of other troops in this sisterhood that are also figuring things out can be comforting to many girls.
This means that you, troop leader, are also not alone in figuring everything out during this stressful time. Here are just a few suggestions, from fellow troop leaders, about how to keep your troop moving forward while staying safe and healthy.
Continue >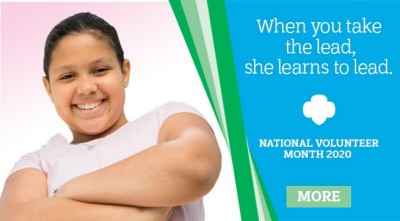 Things may look and feel very different right now, but what hasn't changed is the outsized impact you continue to have on girls' lives. When you take the lead as a volunteer, girls discover that they too can take on leadership roles and change the world. 
Continue >

 At either one of Girl Scouts of Southern Alabama's (GSSA) summer resident camps, she'll feel inspired to take the lead in an all-girl safe space where she's free to explore, learn, and have fun without pressure. 
Both Scoutshire Woods (Citronelle) and Kamp Kiwanis (Eclectic) are open to any girl, regardless of previous Girl Scout involvement. Whether it's her first time at camp or her fifth, there's something new for her to discover in girl-led activities through which the Girl Scout experience truly comes to life.
Continue >