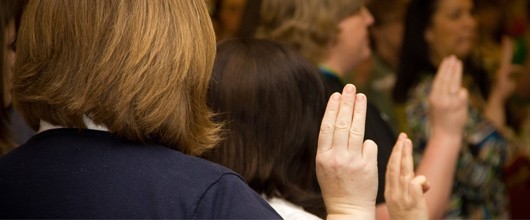 Board of Directors
Elected by delegates from the Council membership, 16 women and men serve on the Girl Scout Council of Southern Alabama Board of Directors. They establish policy, approve budgets, set direction for the Council and monitor progress.


Board Member Biographies
Carrie Shaw - Chair
Carrie Shaw graduated from the University of Southern Mississippi with degrees in English and French. She attended law school at the University of Alabama where she participated in the Domestic Violence Law Clinic and interned during the summers at the Alabama Attorney General's Office. She has been employed with the Montgomery County District Attorney's Office since 2008, and served as the Violence Against Women prosecutor from 2009 to 2015. She now prosecutes street crime as a senior attorney for the office. She's a member of First United Methodist Church in Montgomery; a board member of the Family Sunshine Center Board of Directors and the Girl Scouts of Southern Alabama Board of Directors; and she currently serves as President-Elect of the Montgomery Sunset Rotary Club and as a member of the Community Research Council and co-editor of League Lines for the Montgomery Junior League.
Angela James - Vice Chair
Angela is a Senior Manager /Head of Department for Hyundai Motor Manufacturing Alabama in Montgomery. Angela graduated from The University of Louisville in Louisville with a bachelor's degree in Political Science. The Girl Scout alumna received a dual master's degree in Management and Human Resource Development from Webster University, where she was named most outstanding student. She is a member of the Southern Automotive Women's Forum (SAWF) a non-profit group with the mission to mentor and support women in STEM (Science, Technology, Engineering, Math) for entry and advancement in the automotive field. She is also a member of the Ingram State Technical College Craft Advisory Committee. The Ingram State Craft Advisory Committee is an educational committee developing Supply Chain programs to educate incarcerated women. This is providing them relevant education that will allow them to re-enter society with a career path and opportunity. She is a member of the Board of Directors for Girl Scouts of Southern Alabama. She and her husband, Richard, reside in Montgomery.
Stephen Schlautman - Vice Chair
Stephen Schlautman attended the University of Southern Mississippi where he received a Bachelor of Science in Business Administration focusing in Banking and Finance. He also received his Masters of Business Administration from Southern Miss. Stephen has been a Regions employee for 12 years with experience in the following areas: Mortgage, Commercial Real Estate, and Business Banking. He is a graduate from the Stonier National Graduate School of Banking. Stephen has been a recipient of the Regions Chairman's club award for the past 7 years. His past honors include Mobile Area Chamber of Commerce Diplomat of the year and Mobile Bays Top 40 under 40 list. Stephens's passion is helping to grow business and educate those around him in financial literacy.
Ramona Blankenship - Secretary/Treasurer 
Ramona is retired from a public accounting career of more than 40 years. She has been involved with the Girl Scouts for more than fifteen years. Her hobbies include arrowhead hunting and going on archaeology digs. Her community affiliations include: Leadership Montgomery, Class of XXI, Board Member, Girl Scouts of Southern Alabama, Finance Chair, Family Guidance Center, Past Treasurer, Past Vice President, Past Secretary, Soroptimist International of Montgomery, Past President, Past Treasurer, Soroptimist Southern Region, Past Secretary and Past Treasurer, Lighthouse Counseling Center, Finance Chair, Past Treasurer, Past President, 2004 Woman of Distinction, Girls Scouts of Southern Alabama, and 2003 Legislative Advocate of the Year – Standing Together Against Rape.


Members at Large                                       
Liz Braswell                  Karen Mixon             
Janie Corlee                 Christine Prewitt
Christy Crow                Stacia Robinson   
Carlos Gant                  Laura Searcy
Katie Lovvorn               Lyn Thornton
Darby Luxenberg