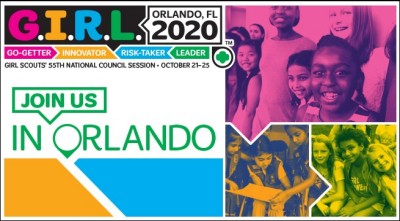 Join us for the world's largest girl-led event for girls and young women and everyone who supports them. For three days, girls will dominate Orlando, Florida—and we want you to be there! On October 23–25, 2020, thousands of girls and their supporters from around the world will come together for G.I.R.L. 2020  in Orlando, Florida.
Continue >

We all know Girl Scout Cookies are yummy and mouth-watering, and who better to share them with than the men and women who proudly serve.
To show our appreciation, Girl Scouts of Southern Alabama (GSSA) has declared this weekend, February 14-16, Hometown Heroes Weekend. Hometown Heroes is a program through which customers make donations to Girl Scout Troops to purchase Girl Scout Cookies for our brave military troops.

Continue >

Girl Scouts of Southern Alabama (GSSA) will host its fourth annual Leading Ladies Brunch April 28th in Montgomery. This Awards Brunch celebrates women and organizations in southern Alabama that have distinguished themselves as outstanding members of the community through individual excellence and high levels of achievement. Nominations for Leading Ladies Awards and the Leading Workplace for Women Award are open until March 3rd.
Continue >