Camp like a g.i.r.l.
Girl Scout summer camp is a one-of-a-kind adventure she's sure to love. So this summer, sign her up to show her something different. Something exciting. Something life-changing. Something designed specifically with her in mind. All while in a supportive all-girl, girl-led, and girl-friendly environment where she'll be given endless opportunities to take the lead and let her unique G.I.R.L. potential SHINE.
Continue >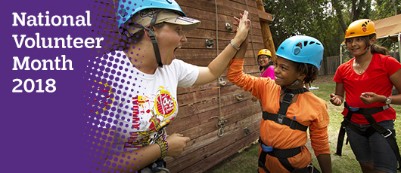 April is National Volunteer Month, and we're recognizing the powerful and inspiring contributions Girl Scout volunteers make all year long. And on April 22, the party gets even bigger as we celebrate Girl Scout Leaders Day! Discover all the ways you can say "thank you" to that special Girl Scout volunteer in your life.
Continue >

She's a G.I.R.L. (Go-getter, Innovator, Risk-taker, Leader)™ force to be reckoned with, and we can help her unleash that unstoppable greatness again. Together, let's make sure she benefits from another extraordinary year of positive energy, excitement, and experiences that build the skills she needs today and tomorrow----- all in a place designed specifically to bring out the very best in her. Because at Girl Scouts, everything she will do is with, by, and for girls. And research shows there's no better place for her to discover her full potential.
Continue >