A special spotlight goes to Claire Harden from Troop 9327! This G.I.R.L. recently earned her Gold Award, the highest award a Girl Scout can achieve! For Claire's project, she assisted in the Aid to Inmate Mothers (AIM) Storybook program, which allows incarcerated moms to read a story to their children on a recording.
Continue >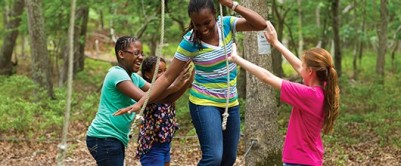 Looking for something fun to do outdoors with your girls?? Try our Get Outdoor Challenge for all ages!! The deadline to complete the challenge is September 30, 2019. Girls who complete the challenge will be able to order a special outdoor patch! Don't miss out on this incredible opportunity to get your troop outdoors and having a blast!
Continue >

Join us for a day at camp to celebrate 75 years of Girl Scout camping at Scoutshire Woods! All friends of Scoutshire Woods are invited including alumnae, summer campers, counselors, and current Girl Scouts and families! Come out and enjoy archery, hatchet throwing, canoeing, zip lining, and so much more!
Continue >