A special spotlight goes to Claire Harden from Troop 9327! This G.I.R.L. recently earned her Gold Award, the highest award a Girl Scout can achieve! For Claire's project, she assisted in the Aid to Inmate Mothers (AIM) Storybook program, which allows incarcerated moms to read a story to their children on a recording.
Continue >

It is not too late to sign up for Munchies and Mags!  The Munchies and Mags Program is an awesome opportunity for your G.I.R.L. (Go-getter, Innovator, Risk-Taker, Leader)™ to enhance her Girl Scout Leadership Experience. If you are a troop leader and want to sell, please reach out to  Customer Care and let us know! If you are a G.I.R.L. that wants to sell, please reach out to your troop leader and let them know.
Continue >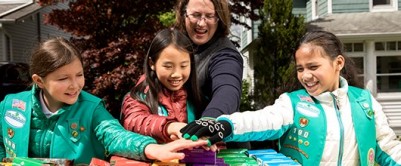 This year's cookie training will be provided via an interactive webinar. Leaders will receive training from ABC cookies, get important sales dates and learn about girl and troop incentives. You can choose to watch from the comfort of your home, or you can come to one of our 4 satellite locations and view with other leaders and staff.
Continue >