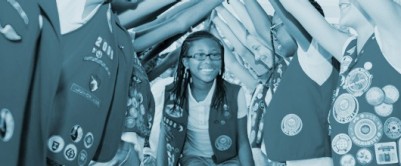 Girls are first at Girl Scouts. And they always will be.Girl Scouts is her home turf, her go-to place where she's free to try new things and just be herself, no matter what her interests are. And now there's even more to explore, with new badges in robotics, outdoor adventuring, cybersecurity, and environmental stewardship—to name just a few! Join or volunteer today, and give her the tools to shine!
Continue >

We are now accepting nominations for Montgomery & Wiregrass areas for our Leading Ladies Awards! The Leading Ladies Awards Brunch serves as a forum for recognizing outstanding women and organizations in southern Alabama, and is an important fundraising event and promotion for Girl Scouting in the southern Alabama service area.
Continue >

Girl Scout Week is definitely something to celebrate—seven straight days to show off your Girl Scout pride and lift up all that this worldwide sisterhood has given you, your community, and the world. Join us in treating each day from Sunday, March 10, through Saturday, March 16, as a day of action focused on a powerful yet simple way to get involved.

Continue >