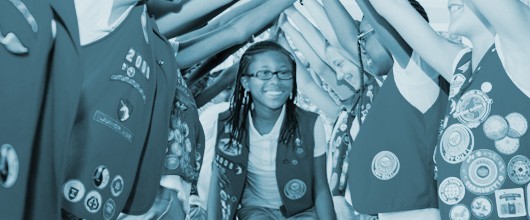 Bridging Ceremony
Bridging is an important transition in a Girl Scout's life. It's a defining moment when a girl becomes aware of her achievements and is ready for new adventures and responsibilities. Celebrating this change should be fun, personalized, and memorable for everyone involved. And most of all, it should be designed by the girls in true partnership with adults.
Bridging ceremonies usually take place at the beginning or end of the Girl Scout year and can have three parts:
Opening: Guests are welcomed and the tone is set.
Main section: The ceremony is explained and the girls celebrate moving from one level to the next.
Closing: Girls can participate in friendship circles and thank their guests.
Each of the ceremony's parts offers plenty of room for the girls' creativity and individuality. The ceremony should always focus on paying tribute to Girl Scouts as they move forward. Be sure to refer to our Bridging Guidelines when planning your Bridging Ceremony.
Planning Your First Girl Scout Bridging Ceremony? Check out these tips!
Daisy | Brownie | Junior | Cadette | Senior | Ambassador

 National Bridging Week June 12-19
When you sign up for another year of Girl Scouting, you'll get to experience the joy of bridging! Bridging involves a special ceremony that highlights and celebrates all the amazing things you've accomplished this year.