G.I.R.L. 2020 Travel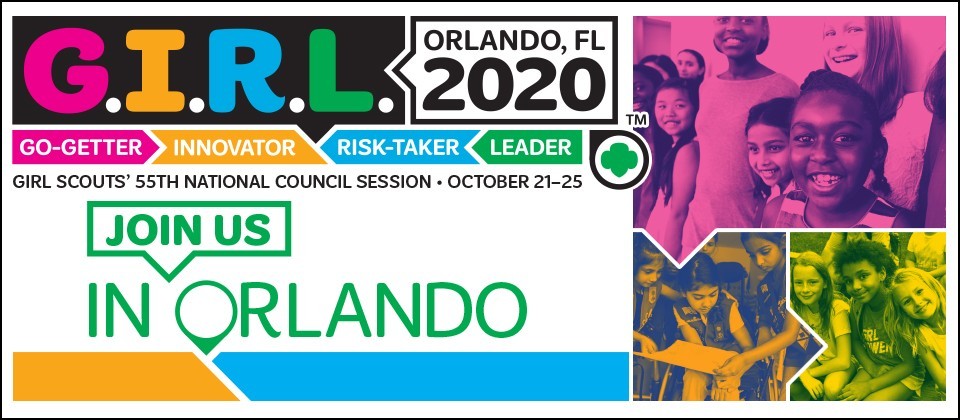 The Girl Scout National Convention is slated to take over Orlando, Florida from October 21 - 25. 
Follow this link to GSUSA's G.I.R.L. 2020 page for their most up-to-date information and special announcements. 
The G.I.R.L. 2020 G-Team has created a G.I.R.L. 2020 Troop Travel Guide to get your troop started on the path to Orlando!  Check out this document for a sneak-peak at events, costs, and schedules.  Your troop can start planning now!  Registration opens in January of 2020!



Along with the convention, where Girl Scouts embrace the grand sisterhood by convening with Girl Scouts from all over the country, and where delegates vote on issues in Girl Scouting, the convention will also host the world' largest girl-led event for girls on October 23 - 25. 
Hosted by Girl Scouts of the USA, the mega event, aptly named G.I.R.L. 2020, will provide attendees with unforgettable experiences as they gain inspiration, tools to empower themselves, and the know-how to lead change in their communities—connecting with some of the most influential women in the world along the way. So awesome!
Girl Scouts and Troop Leaders who are ready for long-distance travel are encouraged to plan a Troop Trip to attend this special event. 
Not sure if your troop is ready?  Have your girls, parents and guardians, and troop leaders take the "Am I ready for travel?" quiz on pages four to six of the Girl Scout Guide to U.S. Travel.  If girls aren't quite ready, know that you should start practicing travel now to prepare by October 2020. 
If your Girl Scouts of Southern Alabama troop expresses interest in attending G.I.R.L. 2020, email Customer Care to have your troop leader's name and contact information added to a list of interested travelers.