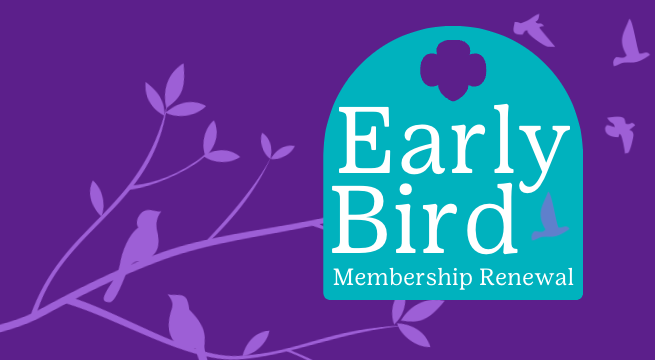 Be an Early Bird - Renew Your Membership!
Hey Girl Scout, what an amazing year it's been! Now get ready for another one filled with unforgettable field trips, energizing community projects, and new passions to share with forever friends. Let's do it again.
Early Bird Spring Renew discounts and incentives begin April 1!
Early Bird Renewal will open on April 1, 2023 at 8 am Central Time.
The first 5 troops to renew 75% of members and at least 2 adults will receive a $100 program credit (in the Troop Coordinators name).  
The first troop to renew 90% of girl members and at least 2 adults will receive a VIP Shopping Experience and receive the Green Carpet treatment at one of our retail locations! The troop will also receive a one-time 25% discount for a purchase of up to $1,000 (discounted by a maximum of $250) in GSSA's retail shop to be redeemed before September 30, 2023.  The discount can be applied to merchandise, uniforms, badges, insignia, etc.  
Members who renew their membership during the first week of Early Bird, April 1-7, 2023, will receive a $10.00 discount on renewal.  The discount closes at 11:59 pm on April 7th.
All girls with memberships renewed between April 1-30th will be entered into a drawing to receive $100.00 in program credits.
All girls whose memberships are renewed between April 1- May 16, 2023, will be entered in a drawing to receive $50.00 in program credits. 
All girls that renew from April 1 - May 16 to receive a free Early Bird patch!