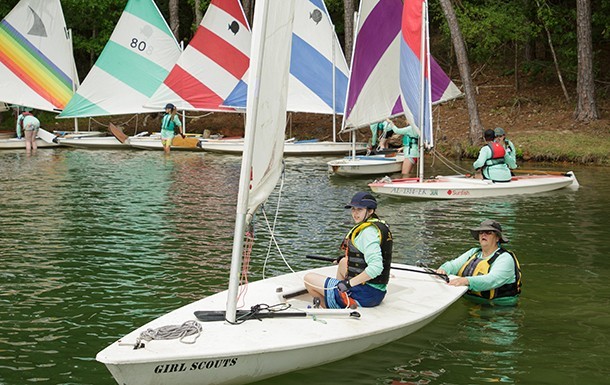 Sail Away Program
Learn to sail and have an AWESOME time on beautiful Lake Martin.  This program will help girls develop courage, confidence, and character through the skill of sailing.  Cost includes teaching instructions, accommodations, Saturday breakfast, Saturday dinner, Sunday breakfast, and snacks.  Out of council Girl Scouts are welcome to join us for this event!
The sailing instructors will cover an introduction to sailing and sailing safety for the class 1 sailors, while more experienced (those who have attended Sail Away previously) will learn more advanced skills with the potential of moving to a higher class. 
All classes will be grouped by the level of experience of each sailor.  All classes are taught basic water rescues, parts and rigging of a sailboat, points of sail, weather, knots and hitches, and navigation.
Class 1 – Beginners Single Sailing and Safety (Tandem)
Class 2 – Intermediate Sailing Open Water (Tandem and Single)
Class 3 – Dingy Sailing (Mainsail, Jib)
Class 4 – Sloop Sailing (Flying Scot)
Our Sailing program is open to all Cadettes, Seniors, and Ambassadors who can swim 50 yards and love the water!